MADRAS CANINE CLUB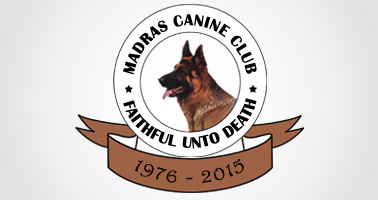 The Madras Canine Club was started in the year 1976 with Late Mrs.Leela Ratnam as its Founder President, Mr. C.V. Sudarsan as the Founder Secretary. After the demise of Mrs. Leela Ratnam, Mr. C.V. Sudarsan was elected as the President and Mrs. Shyamala Murugesan as its Founder Treasurer along with a band of devoted hardcore dog lovers most of whom still continue to be with us in some capacity or the other. Thought 35 years has gone by it still looks as though we had just started the club except for the fact that we do not have Mrs. Leela Ratnam with us any more. Late Mrs. Leela Ratnam was truly a guiding star and natured the club with utmost care and caution. Together we worked as a team and perhaps this was the most single important reason that the Madras Canine Club grew in popularity and fame and was considered a premier club among other clubs.
If at all we have been able to reach the magical figure of hundredth show in this short span of 37 years, this has been largely due to the untiring effort and hardwork of our Committee and the members. During these years we have been effectively conducting dog shows, training people to show their dogs, propagating responsible ownership, conducting Veterinary camps, etc.,
The Madras Canine Club has been continously serving the doggy fraternity in Chennai by not only running dog shows, but periodically embarking on projects like eradication of rabbies among stray dogs, etc., The Madras Canine Club was the first to introduce Agility trials in India and it is our desire to popularise this sport all over India. Agility trials as most of you must be aware is now very popular at the Crufts show in U.K. and all over the world. Dogs as well as the spectators enjoy this sport.
It is also our desire to make dog owners understand the need to be more responsible and to strictly follow the norms and guidelines for responsible dog ownership. As a result of certain irresponsible acts of dog owners and breeders, this has led the public and Animal Welfare Activities to introduce legislations which is considered unfair to the majority of the dog loving public. As a proactive measure the Madras Canine Club has been educating the dog loving public to be more responsible dog owners and for this reason we intend to promote the Good Citizen Dog Scheme which directly and indirectly would go to promote responsible dog ownership.
The response from dog lovers round the country towards this three days of showing extravaganza is already tremendous. There is every indication that this will be the largest and most important dog show with several dogs from our neighbouring countries participating at the show. It is also our endeavour to show case as many Indian breeds at this show which along would help to propagate the Indian breeds which are almost on the verge of the extenction.
This show is going to be the biggest of its kind with 683 dogs having been entered and comprising of 55 breeds most of which are very rare and difficult to be seen under normal circumstances.